October mostly has been warm and sunny here, but last night a thunderstorm blew in and cooled things off. This morning it looked much more typical of this time of year—cool, damp, and cloudy. When I stepped outside, though, I noticed some new color in the front garden to balance the dark sky. Solid green hosta leaves had turned—overnight, it seemed—to a bright, cheerful mix of yellow, green, and brown.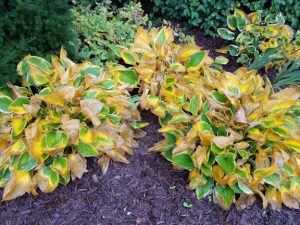 Don't they look as if they just put on their party dresses and are ready for dancing and fun?
Nurturing Thursday was started by Becca Givens and seeks to "give this planet a much needed shot of fun, support and positive energy." Visit her site to find more Nurturing Thursday posts and a list of frequent contributors.