When my husband had to get something out of the attic a few days ago, he took the opportunity to get rid of the clutter too. It wasn't that bad, but he found two random things we had totally forgotten were up there—an old green hose and a folded-up air mattress.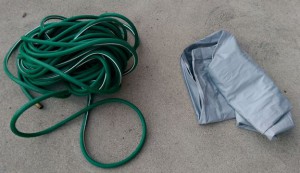 The mattress might have been left over from a Cub Scout camping trip; but it was so long ago, we really can't remember. All I can say for sure is that we haven't done any camping in at least the past 15 years. And we wouldn't have any use for the hose either because we just bought three new hoses of different lengths this spring. So—hasta la vista, clutter.
About Clutter Comedy: Every Sunday (which I envision as a day of rest after a productive week of de-cluttering) I post a Clutter Comedy article describing my most memorable clutter discovery of the week. Other bloggers who wish to join in are welcome—just post a link in the comments! There's no need to publish any "before" photos of your clutter, if they are too embarrassing. The idea is simply to get motivated to clean it up, while having a bit of fun too!