This past week I've been posting calm, soothing nature scenes on my digital art display, looking for healthy and nurturing images in a world that often seems to lack them. The picture shown below, which was captioned "Serene," gave me a particularly peaceful feeling.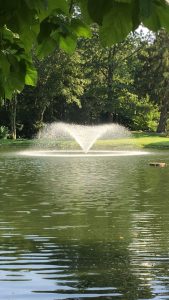 As I've mentioned a few times before, I generally avoid political issues on this blog because I prefer to discuss the broader cultural stories that shape our perspectives, with a view toward reflection instead of argument. However, this does not mean the two can't overlap sometimes.
I am referring to guns, which in the United States have gotten so totally out of control that just discussing the cultural issues is nowhere near enough. People often say that the problem is the culture rather than the guns; but, of course, it is both. While I don't dispute that our culture is full of violent images, the fact that there are real-life guns everywhere blurs the line between fantasy and reality.
Although millions of people play shooter games on their computers and watch dramas with gun violence, those games, TV programs, and movies do not in themselves cause mass murder. There are also millions who enjoy empire-building games and watch epic movies with armies of swordsmen and archers—but when have we ever seen a news story about a mass killing committed with a bow?
Archery and bow hunting are common sports, even in today's world, and anyone who wants to buy a bow and arrows can easily do so. Guns also are commonly used as sporting equipment, for target shooting and hunting. So, it's not just the availability of weapons that leads to mass murder, either. Nor does it depend on the speed of the weapon; in medieval times, skilled archers were very quick and effective.
I think what's different is that bows, unlike guns, are never used to kill people in the modern world, so pictures of archers at war seem very far removed from what anyone might imagine doing in real life. Nobody has a basement arsenal full of bows and arrows. But in the United States there are many people who buy military-style weapons, thinking they may someday need those weapons for self-protection. Violent crime rates are in fact very low and continuing to fall, but everyday images of violence make it feel otherwise.
If military weapons were not sold in gun stores and kept in people's homes, that in itself might change the culture enough so that guns would chiefly be seen as sporting equipment like bows, rather than as tools for killing other human beings. It's true enough that the United States is awash in guns, and destroying all assault weapons would take many years. But frankly, that strikes me as a good reason to start now.