My daughter is visiting for a few days. She enjoys wall decorations with inspirational sayings, and she has several of them hanging on the walls of her house. In general, she loves decorating and cheerful little things. I thought of her when I saw this image recently: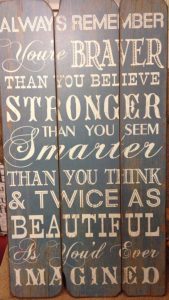 Although I haven't spent as much time decorating, I do agree with her that the more reminders of positive things, the better!
Nurturing Thursday was started by Becca Givens and seeks to "give this planet a much needed shot of fun, support and positive energy." Visit her site to find more Nurturing Thursday posts and a list of frequent contributors.