Among the hot fashion fads of 1969 was a lacquered wooden purse with assorted bright and colorful decorations, which always included a shiny penny on top. My mom had one, and I coveted it with a passion, especially the tiny Ace of Hearts next to the penny. I wasn't really all that interested in carrying a purse to kindergarten—but oh, did I want a deck of miniature cards! I must have driven my mom to distraction with my begging. But of course, in those days searching for odd little items was a lot harder than it is now. My mom did look for them, but Christmas came and went without any miniature cards in my stocking.
The mysterious ways of Providence brought me a deck of tiny cards in January, neatly enclosed in a plastic capsule from a bubble-gum machine. They even looked like the card on my mom's purse. I was thrilled! Of course, my sister and I promptly lost half the deck while pretending that our dolls were playing card games; but it was great fun while it lasted.
Many years later, my sister remembered how much I had liked the wooden purse, and she bought a similar one as a gift for me. This one has no miniature card on top, and of course the 1969 penny is no longer bright and shiny; but otherwise it's much the same. I keep it in a corner of my study as a decoration and smile whenever I look at it.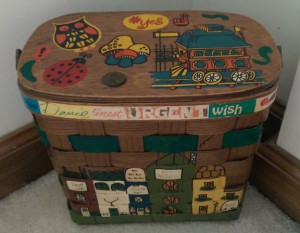 As children, we don't stop to reflect on the little miraculous events in our everyday lives. We're much too busy playing; and life seems magical anyway, so why shouldn't the things we want just pop out of a bubble-gum machine? But after we grow up and develop task-oriented adult minds, our sense of everyday wonder doesn't come as naturally as it once did. We may not even notice the moments of grace in our daily lives unless we carefully cultivate habits of appreciation and gratitude.
And when we do, we're likely to start discovering unexpected blessings everywhere.