I didn't get around to writing a Clutter Comedy blog entry last weekend, though I had good intentions. There was some disruption to my schedule, and also my husband upgraded our home computers from 32-bit to 64-bit Windows 7, which he said took a long time because it should have been done sooner. When tasks are left to wait longer than they should, there's usually more work as a consequence. With software, there are more upgrades to install.
This is not even the final task; it's all just preparatory to installing Windows 10 later this year, which will require buying more memory because operating systems have gotten enormous. That's the way of things in the modern world—technology has given us much more capability, but keeping up with all its changes can feel like running frantically on a hamster wheel.
During my mostly unplugged weekend, I started thinking about how there's not much difference between upgrading our gadgets and refurbishing our minds. If we let too many bad habits, outdated assumptions, and other mental junk pile up, then it's harder to clear that stuff away than if we had done timely maintenance all along. Same thing with clutter in the house and weeds in the garden—there's always something in need of attention that wasn't a problem when we last looked.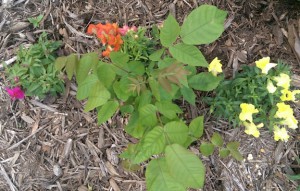 I have no idea how a weed resembling a small tree got into my snapdragons, when I'm sure it can't have been more than a couple of weeks since I last did something in that garden…
Of course, our ancestors also had to do plenty of weeding and other chores, without benefit of today's labor-saving devices. Their work couldn't be neglected because if too many weeds got into the fields and choked out the crops, they might starve over the winter. Still, their lives were much simpler and more structured than ours, so they didn't feel overwhelmed by the pressure of having to keep up with thousands of different things all at once.
We don't really have to juggle huge heaps of tasks either—it just feels like we do, sometimes, because we haven't yet settled into comfortable routines for such a fast-paced world. There are plenty of computer programs and smartphone apps to keep track of the little things. For example, my husband has a reminder in his Outlook calendar to run the self-cleaning cycle on the oven every four months, which was easy to do last weekend when it was cool enough that opening the windows was comfortable. Way easier than our ancestors had it, cooking over a hearth where they had to bring wood and sweep out the ashes every day. Their tasks rarely changed, though, so they didn't have the stress of keeping up with to-do lists.
Our world has left behind the familiar customs and simple chores that once allowed people to go through their days without much need for conscious decision-making. We have many more choices now, and that means we need to manage and upgrade our choices proactively, so they don't overwhelm us. It's not just about getting used to new gadgets, either; the culture is changing rapidly around us, which means our assumptions are constantly being challenged. Sometimes everything feels like a leap into the unknown.
I am optimistic that as time passes, our society will develop more effective ways to help people navigate its complexity. The concept of supported decision-making refers to informal arrangements that assist people with disabilities in making choices. As I see it, people in general could benefit from having more structure and support in their lives. It's not that modern humans are any less competent than our ancestors; we just live in a much busier world.