Back in October, I posted a photo of the willow hedge that runs along my backyard fence, and I got a comment asking for another photo in the winter showing the bare branches. So here it is—the snow looks quiet and peaceful, but the wind was whipping it up just before I took this picture, and I hurried right back inside to get out of the cold!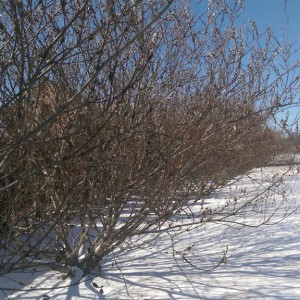 The hedge looks especially pretty at this time of year, with all the little white catkins unfolding. It doesn't matter how cold and snowy the weather gets—the willows always put on a show anyway! Our own lives are not so very different. Even though there are times when we may not feel that we're in the most comfortable and nurturing environment, we are still capable of creating beautiful things; and all kinds of worthwhile lessons go on unfolding when it's the right season for them.
Nurturing Thursday was started by Becca Givens and seeks to "give this planet a much needed shot of fun, support and positive energy." Visit her site to find more Nurturing Thursday posts and a list of frequent contributors.