I mentioned in the comments to my post last Thursday that at the rowing club, a pair of killdeer make their nest every year on the gravel path between the boathouse and the dock. Whoever is first to notice the nest puts a traffic cone beside it, to make sure nobody steps on the eggs. The boathouse is located on parkland that is full of wildlife, however, and some small predator always eats the eggs before they can hatch.
The eggs got eaten again in early June, but the birds are valiantly trying once more. Their new nest is much closer to the boathouse. Probably because the gravel is thicker there, I'm guessing, and not because the predators are fewer. I took a photo that shows how the eggs match the gravel and are almost invisible.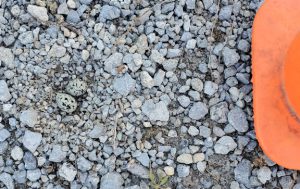 It looks like an uncomfortable place to sit—but to each their own, I suppose. Everyone is hoping the birds will have better luck with the eggs this time!