Last night I had a very vivid dream in which I was driving along a narrow country road in the dark of winter. It was a lonely road and I wasn't sure where I was going. After a while I felt sure that I had gone the wrong way and should be on a different road, so I turned my car around.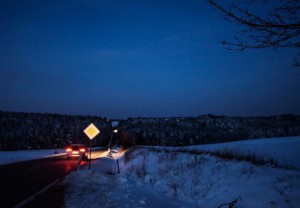 (Creative Commons image via flickr)
When I woke up, it felt like my subconscious mind had sent me some kind of message about changing direction, but it wasn't entirely clear. I didn't know whether the dream was telling me that it's time to change something I am doing in the present, or whether it was reflecting anxiety about possibly making a wrong choice in the future. So I decided to turn it into a blog post and ask for suggestions in the comments.
Readers, have you ever had a wrong-way dream, and what did you feel that it was telling you? How did things turn out afterward? Did you realize that you had made a wrong choice somewhere and then make a change of direction in your real life? Or did you decide that you'd had the dream because of worrying about a future choice you would have to make?