I am writing this post on a desktop computer where the background images are a collection of landscapes with paths, which change automatically from one to another every few minutes. My husband found them last year. They've been very good for my soul, inviting me to go for refreshing imaginary walks along those peaceful paths, rather than just sitting in my chair focused entirely on producing words on a white screen.
I've also found myself drawn to similar images when I look through the online gallery for the digital art display I got for Christmas. At present, I have it set to display a wooden bridge or walkway leading to a beach, with palm trees and other tropical plants on both sides. This picture makes me feel almost as if I could step into the frame and be somewhere far away on a magical adventure.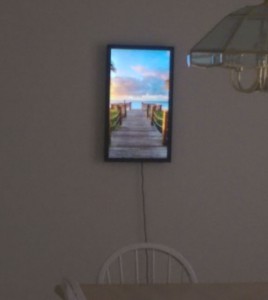 We have many stories like that in our culture—the Narnia books and the Myst game come to mind. These familiar stories speak to a truth that our ancestors knew long ago, when they put on animal masks and danced with the tribe's guardian spirits. Our world really does feel more magical when we surround ourselves with bright, fanciful images that call us to explore it!
Nurturing Thursday was started by Becca Givens and seeks to "give this planet a much needed shot of fun, support and positive energy." Visit her site to find more Nurturing Thursday posts and a list of frequent contributors.