Outside my window this morning, there were snow flurries. After last week's warm weather, it kind of felt like Mother Nature had decided to play an April Fool's joke, even though I know there's generally at least one cold day in early April.
That was okay, though, because my digital art display always lets me prank Mother Nature right back when the occasion calls for it. This faux "window" showing wild parrots on a wall in Venezuela seemed like just the thing—no snow to be found anywhere.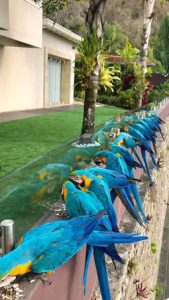 (Photo credit: Rosemary Acosta)
Wishing you a colorful flock of happy imaginings too!
Nurturing Thursday was started by Becca Givens and seeks to "give this planet a much needed shot of fun, support and positive energy." Visit her site to find more Nurturing Thursday posts and a list of frequent contributors.