Monday seemed like a melancholy day, without much good reason for it. Dark thunderstorms and cooler temperatures have been rolling through the area for days, making it feel as if we've already lost the warmth of summer; and I was bothered at times by memories of past foolish acts when I was younger. Of course, those things didn't matter much even at the time, and they're all totally unimportant now; but they just tend to stick around as little irritants in the mind—rather like burrs, or maybe sand and grit in shoes.
So when I went to bed Monday night, I decided that I would benefit from a calming visit to my imaginary Channelwood Sanatorium for troubled past selves, as described in several of my Younger Self posts. I generally picture two of Channelwood's tiny homes as being kept available for my use. They're both about the same in dimensions and furnishings, about 100 square feet and containing a bed that converts to a daybed, a nightstand, a small desk, and a dresser/wardrobe unit that has a mirror with an ornate pewter frame hanging above the dresser section.
The only difference is that they are located on opposite ends of the village. One is deep in the forest, while the other is close to the beach. Depending on which I choose, when I get in bed I'll set my clock radio to play either an ocean soundtrack or a rainforest with tropical birds singing.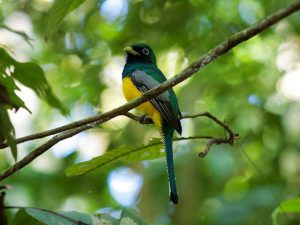 (Creative Commons image via flickr)
I started to feel better after listening to the rain and birdsong through my imaginary window on Monday, and then it occurred to me that perhaps all those annoying past incidents needed was a few good laughs to take the sting out of them. After all, it really was very silly that I still felt bothered by insignificant stuff that happened 30 or 40 years ago. Some of the people there at the time probably weren't even alive now.
Although that last sentence looks like a morbid thought when put into written words, it briefly struck me as hilarious in my half-asleep brain. I pictured myself telling them, "Hey, guess what, you guys are dead now! Ha, ha, wasn't it silly, all the ridiculous stuff that we used to think mattered?"
Then a few of their disembodied voices joined in the laughter. "Yeah, we've been dead for years! We're all jolly ghosts now! Ho, ho, being human was so absurd! Can you believe we ever imagined any of that nonsense was important? What a hoot!"
We all laughed raucously together for a minute or two, while the birds went on singing and a cool, refreshing rainforest breeze blew through the tiny house's open windows.
"Thanks for dropping by, you guys," I finally said, just a little more seriously. "You've really cheered me up."
"No problem, glad to oblige," one of the ghosts promptly replied. "Hey, it gets kind of boring sometimes, being dead and all that."