Today was very dark and wet. I got rained on when I did the grocery shopping this afternoon, and then there was a power outage for about two hours. Meanwhile, my husband had to move the rowing club's boat trailer to higher ground because the river was rising high enough to flood the parking lot at the boathouse.
So, even after the power came back on, I didn't feel particularly lucky or glad until my husband texted me from the gym after work. He asked if I had checked the basement. I went down there to look, and the sump pump was running. The floor was dry, though; so even with all the rain, there hadn't been enough water to flood the basement floor while the power was out. That left me feeling much happier about how the day had gone, as compared to what might have happened.
With all the water around here today, I decided this word-art was quite appropriate for Nurturing Thursday: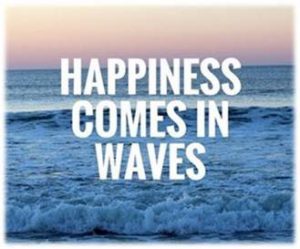 Nurturing Thursday was started by Becca Givens and seeks to "give this planet a much needed shot of fun, support and positive energy." Visit her site to find more Nurturing Thursday posts and a list of frequent contributors.