This is a continuation of a story that began on the blog Nuggets of Gold.
All parts of this story have been consolidated on one page here.

Somewhere across the lake, a rooster crowed. The sound carried clearly in the still air before dawn. She blinked, startled; the lake now reflected pale pink clouds instead of moonlight. It seemed that only a moment had passed since she closed her eyes, but somehow she must have dozed off without knowing it.
Rising to her feet, she brushed grass and twigs off her long, full skirt, which came down far enough to brush against wooden shoes fitting tightly over thick homespun stockings. But no, that wasn't right at all—she had been wearing jeans and gym shoes when she walked through the woods to the lake.
When she turned around, she couldn't see any path through the tall grass and midsummer wildflowers. Farther back, instead of the familiar patch of woods, a large old-growth forest loomed, with trees much taller and broader than she'd ever seen.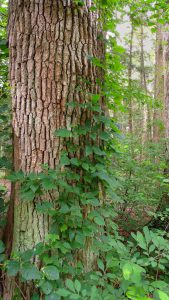 (Photo credit: Nicholas A. Tonelli)
The air felt invigorating; it was fresh and pure, filled with the scents and sounds of nature. She turned back toward the lake, only then noticing how easily her body moved, without the aches and stiffness that she'd have expected from falling asleep outdoors at her age. Although she was in fairly good health at 67, camping in the woods would not have been on any list of her favorite activities.
The landscape on the other side of the lake had changed, too. Where was the new subdivision of expensive lakefront homes that she'd driven past, and the state highway not far behind them? Now there was only a small, tidy log cabin, surrounded by vegetable gardens and—yes, that was definitely a chicken coop.
"Hello." The little voice came from a girl, also wearing an old-fashioned dress, who was walking across the grass to her left. "My name is Mabel. Who are you, and what are you doing here?"
None of this could be real, she thought. There was only one sensible explanation—she was still asleep in the grass where she had dozed off listening to the bullfrogs in the moonlight. "I am in a dream," she said, more to herself than to her young companion.
Mabel smiled, showing a gap from a newly lost baby tooth. "You'll have to come and meet my Mama," she declared, setting off toward the cabin, where a woman had just stepped outside with a wicker basket.
By the time they reached the cabin, the basket was full of freshly collected eggs. Mabel announced cheerfully, "Mama, this is my new friend, Miss Ina Drim. I found her on the other side of the lake."
The woman had light hazel eyes and a kindly smile. "Good morning to you, Miss Ina. You can call me Nellie. Have you traveled far? You're very young to be walking through the Wild Forest by yourself—why, you can't be much over sixteen. And today, of all days!"
Her first reaction was to open her mouth in surprise, thinking that she'd better set matters straight as to both her name and age. But her hands looked young and smooth at the end of her long, billowing sleeves, with no age spots or swollen knuckles. How old was she, really? And what had her name been? The more she breathed this lovely fresh air, the harder it was to remember.
Seeing that she looked confused, Nellie clarified the last sentence. "I meant, today is the summer solstice. Folks say that the witches who live in the Wild Forest use their magic every Midsummer's Eve to bring girls here from far away, so as to train them in the secret ways of witchcraft. The magic is said to be so very strong, the girls can be summoned from distant countries or even through time itself. They forget everything about their old lives."
Ina, who by now couldn't recall if she'd ever had another name, shook her head in denial. She couldn't possibly have been summoned by witches, could she? No, of course not, that was ridiculous. She'd come here to the lake because of—something about family, and memories, and an old woman. Surely it would all come back to her soon.
"I was visiting my grandmother," she said finally, not sure whether that was quite right, but concluding that it must be close enough. "And I lost my way in the woods."
Nellie looked horrified. "Lost and alone in the Wild Forest all night—you're lucky the wolves didn't get you! Of course, you'll have to stay here for now. It would be much too dangerous for a young girl like you to travel through the forest alone, especially today." Her tone made clear she wouldn't stand for any argument.
Although her first inclination was to argue anyway, Ina decided that was silly. After all, the invitation plainly was well-intended, and there didn't seem to be any reason to leave just yet. She might as well stay for a little while—at least, until she could remember where she ought to be.

Click here to continue to Part 3.