Now that the weather has turned chilly, I've decided that until the winter is over, I won't be doing any more of what has seemed like an endless chore of pruning my backyard willow hedge. It's mostly under control and not as much in my husband's way when he mows, but it still has a few dead and dying branches here and there. Winter isn't far away, though, and the leaves are falling.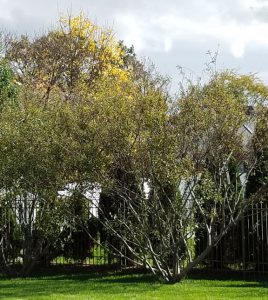 As well as getting back the weekend time that won't be sucked up by those trees, I'm also going to take some half-days off from work just because I feel like it, even if there is nothing in particular that I need to do. My vacation days do not roll over from one year to the next, so there's nothing to save. I already scheduled taking off Thanksgiving week and Christmas week, and I still have a little time left over.
When my husband and I were younger, we had a judgmental attitude toward people who took "mental health days." We thought that they were wasting valuable vacation time and might regret it later, if something unexpected came up, and that they needed to do a better job of managing their time.
After many years of rushing from one activity to another, though, we can better appreciate the value of having a more relaxed attitude toward time. As with anything else, when time is treated as a scarce resource that has to be hoarded and carefully managed, it never feels like there is enough. Best to be more easygoing, within reason of course, and not worry about it.