Many years ago, I got a black dress with a shiny loop at the neckline, which was made of silver sequins. I have fond memories of events to which I wore the dress; but as time went by, the stitches in the loop drew up unevenly, so that with each washing it looked a bit less symmetrical. As much as I fussed with it and tugged it into place, it never looked or felt quite right anymore.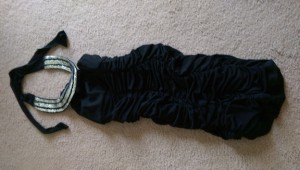 Then I realized that because the dress no longer made me happy, the time had come to send it on its way, even if it was still wearable. We have so many choices and possibilities open to us in the modern world, but only a few of them can fit into our available space and time—so we have to choose wisely and make changes that give us more joy!
About Clutter Comedy: Every Sunday (which I envision as a day of rest after a productive week of de-cluttering) I post a Clutter Comedy article describing my most memorable clutter discovery of the week. Other bloggers who wish to join in are welcome—just post a link in the comments! There's no need to publish any "before" photos of your clutter, if they are too embarrassing. The idea is simply to get motivated to clean it up, while having a bit of fun too!