After a dark wintery week, I was very glad to see the sun this morning, and I opened the wooden blinds in my family room right away. There's still no furniture other than a rocking chair because filling in the space never felt right to me, as I mentioned in a previous post. But it's lovely in the sunshine; and even though the sky soon turned hazy, reminding me of the old song "Hazy Shades of Winter," all that wide open space left me feeling cheerful anyway.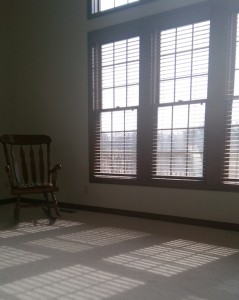 Maybe it's the angle of the sun as it slants more steeply through the windows, reassuring my subconscious mind that spring is not far away. Whatever it may be, I hope that everyone reading this post has a comfortable place at home that inspires cheerful feelings too!
Nurturing Thursday was started by Becca Givens and seeks to "give this planet a much needed shot of fun, support and positive energy." Visit her site to find more Nurturing Thursday posts and a list of frequent contributors.