Although my daughter has moved out, I keep finding stuff that she left around the house. This week's unwelcome discovery was a Snow Cone Maker on a kitchen shelf, along with cups and a half-empty bottle of grape syrup, which evidently was left on the shelf for years when it should have been refrigerated, yuck. The syrup left purple spots on the shelf; I hadn't realized because it is above my height and I had to stand on a stepstool to see what was up there.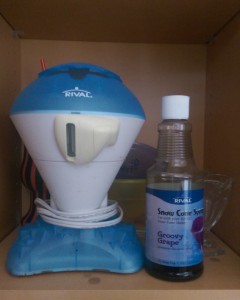 I threw away the syrup, of course, and put everything else in the basement along with all the other stuff my daughter is supposed to collect. My husband thinks I'm being too nice and should just throw it all away, since she probably forgot about it long ago and "that's the only way it's leaving the house." He is probably right, but I'll give her just a little while longer…
About Clutter Comedy: Every Sunday (which I envision as a day of rest after a productive week of de-cluttering) I post a Clutter Comedy article describing my most memorable clutter discovery of the week. Other bloggers who wish to join in are welcome—just post a link in the comments! There's no need to publish any "before" photos of your clutter, if they are too embarrassing. The idea is simply to get motivated to clean it up, while having a bit of fun too!