This time of year, many folks in the Northern Hemisphere start feeling like we've had enough of winter and are counting the days till spring. But rather than grumbling, we should enjoy and try to make the best of each day instead, even if there happens to be snow in it! So I decided that this word-art image would make a good Nurturing Thursday post.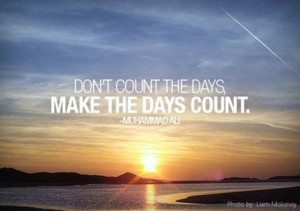 This morning I glanced out the window at some flurries and thought about how soft and pretty they looked, and how easy they were to appreciate from the comfortable warmth indoors! When we take the time to look around, there's always something to turn ordinary days into "days that count." Wishing all my readers a joyful week full of great days too!
Nurturing Thursday was started by Becca Givens and seeks to "give this planet a much needed shot of fun, support and positive energy." Visit her site to find more Nurturing Thursday posts and a list of frequent contributors.