Last night I dreamed that I was a trucker (in real life, I've never driven a truck) and I had a white goat named Wilhelmina, who rode in the passenger seat of the cab, happily looking out the window and watching the world go by. I took her for a walk at a truck stop like a dog.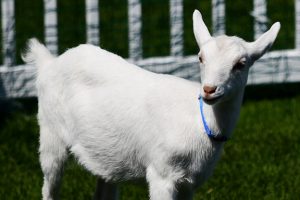 (Creative Commons image via flickr)
I've never owned a goat in real life either, but I'll guess that the meaning of this dream had to do with being adventurous—getting out and seeing more of the world. Long-haul truckers drive to new places every day. Dogs and other pets that enjoy riding in vehicles are always excited about the adventure.
Why a goat rather than a dog? Maybe just to put more emphasis on the idea of doing something unusual. I'm not sure where the name Wilhelmina came from, as I've never known anyone by that name. It sounds like a German queen, though, so it does add to the travel motif. Anyway, this dream gave me a bit of fun trying to figure it all out!