I had a quiet day at home on Monday because it was a company holiday for me, while my husband had to go to work. The weather had turned colder, with snow flurries, and I didn't feel at all like going out or—to be honest—doing much of anything. I put a picture of a frozen stream on my digital art display because, well, that was the sort of day it felt like to me.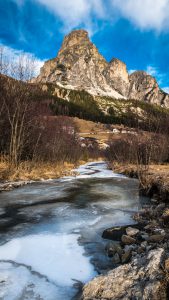 (Photo credit: Giuseppe Milo)
Sitting down with a good book and a cup of tea seemed just right, but I couldn't make up my mind what I felt like reading. That reminded me that I had been meaning to install Libby on my phone. Libby is an electronic borrowing app; first you identify your library system and enter your card number, and then you can browse the library's catalog and either reserve a paper book or (in the US) get an ebook on your Kindle. There is no need to return the ebook because it is automatically removed from the Kindle when the library loan expires.
I downloaded the Libby app and found it easy to set up and use—it took only a few minutes. Why I hadn't gotten around to doing it before, I don't know. For the past several years I'd been buying books from Amazon and, as I mentioned in a post last year, got totally out of the habit of visiting the library. Now that I have a convenient app, I hope to do better from now on!