I've had the phrase "let go of the outcome" in my head a lot this past week, when telling myself that uncertain situations would turn out for the best regardless of what might happen at a particular time. In keeping with that thought, and with the "consider the lilies" story that I posted yesterday, I decided to illustrate today's entry with a photo of the daylilies next to my garage.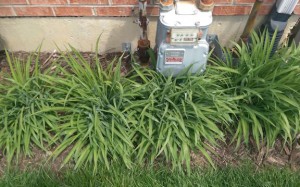 I planted them under the gas meter about 10 years ago, and they've been growing robustly ever since. One year the gas company dug them up to put in a new meter, and that left me concerned that they might not recover properly. But they came back the next year as healthy as ever; so, just as with anything else, I shouldn't have wasted my time and mental energy uselessly worrying about possible outcomes!
Nurturing Thursday was started by Becca Givens and seeks to "give this planet a much needed shot of fun, support and positive energy." Visit her site to find more Nurturing Thursday posts and a list of frequent contributors.