I ordered a flat of snapdragons again this year for a junior rowing fundraiser. Some of last year's plants are still alive because of the mild winter (as shown in a late November post), but they're not blooming yet, so it will be good to get some new ones in next to them!
The plants were delivered to the boathouse this afternoon, and my husband picked them up. He hasn't gotten home yet, and the flowers are still in his car, so I'm posting an image that I cropped from the order sheet instead of the actual flowers.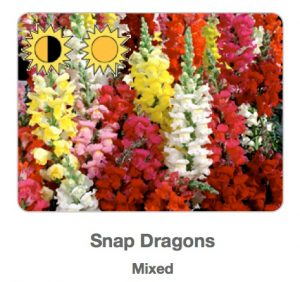 Tomorrow afternoon I'll get them planted while my husband mows the lawn. Wishing all my readers in the Northern Hemisphere a week of happy spring planting too!
Nurturing Thursday was started by Becca Givens and seeks to "give this planet a much needed shot of fun, support and positive energy." Visit her site to find more Nurturing Thursday posts and a list of frequent contributors.