On Monday morning a light rain was falling, so I chose a rainy-day image for the art display that hangs on a wall of my dining room. The weather forecast on my phone was predicting more rain later.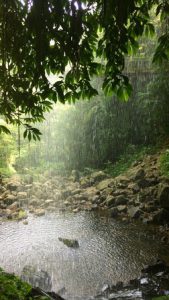 As the day went on, however, the sky cleared. By late afternoon, it was sunny and warm. I went rowing with my husband, taking it easy and just relaxing.
The rainy-day picture was an obvious mismatch when we sat down to dinner. I thought about displaying a sunnier view, but by then it was already late in the day, so there didn't seem to be much reason to look for a different image.
"I'm glad you didn't change the picture. That's my favorite kind of rain." My seven-year-old younger self, Ponch, peeked out of my subconscious to comment. She was wearing her usual poncho, which covered most of a red-striped dress, and white knee socks with penny loafers.
"Hi Ponch." I glanced back at the picture. "What do you like about it?"
"My favorite rain is when it's just sprinkling a little, so you can walk around and feel the rain on your face, but it's not so much that Mom says to come back inside and put on a raincoat."
"I have a raincoat for rowing. Mostly I don't wear it, though, because I would be too hot, so I just go out without it and get wet."
"Well, you're grown up and nobody makes you wear it." Ponch sounded just a bit envious. "Your boat looks like it would be fun. Maybe I can row it sometime?"
"It's too big for kids your age." I smiled. "But I am a future you, so I can promise that you'll have plenty of time to row it when you are older."