All parts of this story are consolidated on one page here.

Breath, in. Heartbeat, slow and regular. Bringing joy into the heart. Infinite joy. Breath, out. Sending love to all. Love to the self sitting on this cushion, to the women gathered in this room, to people everywhere, to the world. Itchy shoulder, noted; gently releasing it from awareness. Breath, in…
A bell rang twice to signal the end of the meditation session. Ina opened her eyes, surprised; hadn't she just sat down a few minutes ago? But no, daylight was streaming into the room now, and the session had started before dawn, as always.
Stacking her cushion on the shelf with the others, Ina walked through the broad stone corridor that led to the dining hall. She filled her breakfast plate with rye bread, cheese, and an apple from the serving platters on a long table beside the wall.
Ina's usual instructor, Luz, who was wearing the striped apron of those on kitchen duty, set out another pot of porridge. There were no servants here, and never had been, according to Petra's historical accounts—which went back hundreds of years. Everyone took turns doing the chores, with no distinctions made for status or seniority. Just yesterday, Ina had seen Mother Ocean down on her knees with a plain kerchief over her silver hair, scrubbing a latrine.
Taking a step toward the round dining tables in the center of the room, Ina saw the flash of a smile beneath Rowan's brightly colored hat. Rowan was the chief healer, and Ina didn't often have lessons with her; but, somewhat to Ina's surprise, Rowan gestured for Ina to take a seat across the table.
"This morning, Ina, you'll be going out with me," Rowan said, handing an empty porridge bowl to an apron-clad Daphne. "I'll show you how to find healing plants. They often grow in places you wouldn't expect. Nature is wonderfully inventive! And although our library has many books of herb lore, nothing can take the place of hands-on knowledge."
Ina finished her breakfast quickly and put on a light cloak over her winter dress before joining Rowan outside. Only a few days after the spring equinox, the sun was already high in the sky. Yesterday's dusting of snow had melted almost entirely, leaving a muddy forest floor with hints of green here and there.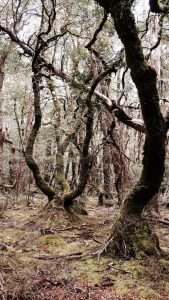 (Image credit: Guillaume Roux)
Rowan took the familiar path that led uphill beside the river. She carried a sack over her shoulder, made of a green fabric embroidered with a design of red berries. Every few minutes she stopped to put something in the sack with a few words of explanation to Ina, such as that willow bark was often used for relieving pain and that it was best harvested in the spring, after the sap started to run.
After a while, Ina's attention began to wander. What was the point of gathering herbs, she thought, if healing could be done just as easily by magic? Why not use magic all the time—just as Ina herself did when she lit candles, now that she knew how.
She kept the question to herself at first, as she didn't expect Rowan would want to hear it. After all, it sounded like a complaint, and Ina knew she'd likely be told that she ought to be grateful for the chance to get outdoors and enjoy the fresh air. Such as it was; the breeze felt pleasant enough, but Rowan had just gone tromping into yet another icky bog full of skunk cabbage, some of which she'd already put into the sack while cheerfully expounding on the plant's many medicinal uses.
"What do we need herbs for, anyway?" Ina finally couldn't help herself. "I know you can heal people just by laying hands on them, Rowan—I've seen you do it."
Lifting her gaze from the murky puddle she'd been examining, Rowan calmly responded with another question. "Why did we need to eat breakfast this morning, when instead we might have used magic to draw our energy from the sun as plants do?"
Ina was still pondering her answer when Rowan, with a smile, returned to the path. Ina soon followed her up to a hilltop that was at once familiar and very different from when Ina had first seen it months ago.
The wreckage of the old oak tree still lay on the stony ground, cleaved neatly in half by the lightning bolt that Ina had unwittingly brought down. Around it, winter-brown grass was giving way to bright spring growth. Rowan approached the dead wood and pointed out a fungus growing on one side.
"This has valuable healing properties," she told Ina, "and it grows only on the largest dead oaks—those that had lived hundreds of years. So you see, this tree's death was not wasted; Nature made good use of it, as part of the harmony of being."
Ina took a deep breath of air that, all at once, felt wonderfully fresh and full of life. "That's why we gather herbs and eat breakfast, too, isn't it? Because we're part of the harmony."
Rowan's smile grew much broader. "Exactly."

Click here to continue to Part 13.