In addition to my regular work, I've been putting together a PowerPoint presentation entitled Resilience, Stress Tolerance, and Flexibility as part of a group that presents online sessions for employees about digital transformation and related issues. I haven't used PowerPoint much before, and it's interesting to see what can be done with design and images. I like this Lego juggler image to illustrate the flexibility needed in a work environment where the pace of automation keeps increasing.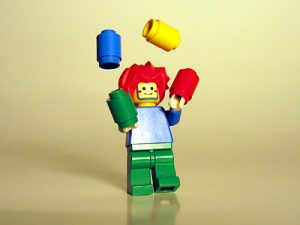 (Creative Commons image via flickr)
Meanwhile, after a short break when the sprint season ended, my husband and I are training for the rowing regattas again. During the fall season the races are 5K, which is about the same length as one lap on our usual course on the river. Usually we row two laps, but we are now rowing three laps most days to build up our endurance. With the shorter days this time of year, we're in a bit of a hurry to row that much before it gets dark, and sometimes we still have work to do when we get home. We're also doing some online yoga and mobility exercises in the evenings.
Finding time to write blog posts has seemed like a bit of a challenge, but as I've built up more mental and physical flexibility, I'm finding that creative ideas come a bit quicker. The self-improvement advice that I'm putting into the presentation seems to be doing me some good in real life!