Twice recently I've had a dream in which I am sitting in a parked car with the engine running, and it suddenly starts rolling backwards. I try to brake and to turn off the car, but the computer is malfunctioning and won't take any input. The car keeps on rolling away no matter what I do, and I know it's just about to crash into something when I wake up.
A car wouldn't really do that, of course, and there is nothing scary happening in my life right now. So I'm guessing that the dream reflects a fear that I might somehow "roll back" to stressful times in the past when I felt like I wasn't in control. How to deal with it? Well, mainly I'd say that I just need to take a few deep breaths and stay focused on the safe, straight road ahead.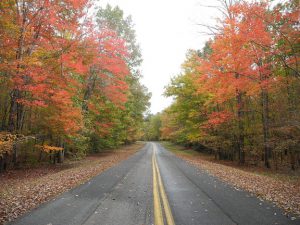 (Creative Commons image via flickr)
Also, there's no need to keep a narrow focus and look only at the pavement. Much better to slow down and take enough time to appreciate the pretty landscape, the soft sound of leaves rustling in the wind, and the crisp autumn air. There is always something in the moment to enjoy!