Often when people are too busy, it's because they've gotten the idea that if they don't do everything, then it won't get done. Of course, that is not really true. It's not all on us. Lots of things happen whether we're involved or not. Most of us are nowhere near indispensable in our jobs and other obligations, however much we might like to think we are; and Mother Nature does as she pleases.
I planted snapdragons in my garden next to some that had survived the winter, as I mentioned in a post a month ago. Here's a photo showing two large plants on either side (the survivors, now blooming) with the freshly planted ones in between and smaller plants from last year's seeds popping up all around.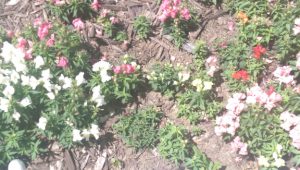 If I hadn't gotten impatient for a bit of color in early May, I could easily have waited, and the garden would have filled in with snapdragons naturally. I see it as a good reminder that even though we always have things we want to do, the world is not going to fall apart if we don't happen to get them done!
Nurturing Thursday was started by Becca Givens and seeks to "give this planet a much needed shot of fun, support and positive energy." Visit her site to find more Nurturing Thursday posts and a list of frequent contributors.