To simplify their lives, my husband's parents try to avoid scheduling more than one activity on the same day, which they view as "too much confusion." I usually am more flexible than that, but this week definitely had more confusion than its fair share.
Monday started out pretty good when an energy-efficiency rebate check from the power company arrived for replacing the old air conditioner. Unfortunately, the equally old refrigerator died on Monday evening, so that money now has to go toward its replacement.
No food got spoiled because the freezer side is still working and my husband brought an old dorm refrigerator (left over from when our daughter was in college) upstairs from the basement. Still, it was disruptive, what with going shopping for the new refrigerator and having computer issues at work.
Tuesday was a dark, rainy day. I got confused driving to the appliance store because the street numbers changed from one city to another, and I had to call my husband (who was meeting me there) to find out where to go. I put an image of a dark, tangled tree on my art display because it seemed to fit.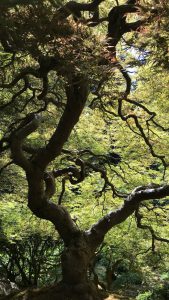 The new refrigerator is on order and should arrive next week sometime, so the confusion won't last forever. Yesterday evening we went rowing on a nice calm river. Getting outdoors and spending time in nature always helps to calm the mind and the senses.