I plant sweet alyssum in my garden every May, and it always makes me feel peaceful and happy. The blossoms smell lovely—and they're edible too, as alyssum is related to broccoli. It is native to Mediterranean countries, where it sometimes is used in salads. Alyssum means "without madness," which comes from the ancient Greeks' use of the plant as herbal medicine to calm angry feelings and promote emotional balance. They also believed it could prevent rabies.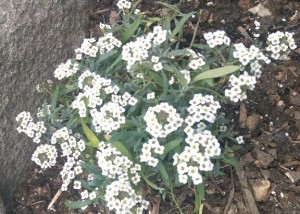 In warmer climates alyssum grows year-round, but where I live it gets too cold for that! Having to replant it every spring is okay, though, because working in the garden helps with feeling more centered and (literally) grounded. So, alyssum is good for self-nurturing whether it is eaten or whether it is planted just for its pretty blossoms and pleasant fragrance. Either way, it's part of a peaceful and calming flower garden!
Nurturing Thursday was started by Becca Givens and seeks to "give this planet a much needed shot of fun, support and positive energy." Visit her site to find more Nurturing Thursday posts and a list of frequent contributors.