All parts of this story are consolidated on one page here.

The lake wasn't very deep where Mabel had fallen from the tree. Ina could stand up easily; the water didn't quite reach her shoulders. It was murky enough that she couldn't see the bottom, however, and rain had started to fall. She looked for bubbles or other disturbances, but none were apparent.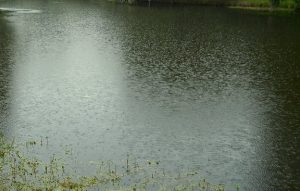 (Creative Commons image via flickr)
Mabel couldn't be far away, but Ina's foot touched nothing when she swept it in a broad circle. Taking a deep breath, Ina plunged under the water, reaching more widely around herself. Still nothing, and below the surface it was literally too dark to see her hand in front of her face.
With burning lungs, Ina came up for air. She blinked the muddy water out of her eyes and looked again, feeling increasingly frantic; still, there were no bubbles nearby. Was Mabel dead already? Had Ina failed, yet again, incapable of something as simple as finding a little girl who surely had to be right here…
A voice spoke in her thoughts—Mother Ocean, from a lesson months ago.
"Ina, close your eyes. What do you see?"
Forcing herself to shove away the rising panic and take a calming breath, setting an intention on the breath out—let Mabel be safe and well—Ina obediently shut her eyes.
There, just to her left, a tiny pinpoint of life energy. So faint, so terrifyingly faint—but she could feel it. Ina reached down again and touched the soft fabric of Mabel's dress almost at once. She got her arms around the child's torso, heaved Mabel over her shoulder, and waded up out of the lake.
The rain was coming down in earnest now, huge sheets of it. Ina set the motionless girl down in the sodden grass. Her hands moved almost on their own, as if they knew what to do without need for guidance from her half-panicked mind. Compressing Mabel's chest, she forced out a big gush of lake water. Had the child started breathing now, or was that only Ina's imagination? Her skin was so cold, so pale. It was hard to believe she could still be alive.
The pouring rain hadn't washed away all of the blood on Mabel's dress where a sharp branch had pierced her leg. Most of the branch had broken off when Mabel sank into the water, but some was still in there. Ina took hold of the splintered end and tugged it out, feeling a gush of blood over her hands.
That means Mabel is alive, Ina told herself, grasping for a tiny shred of reason. Dead bodies don't bleed; they don't have a beating heart to push blood out. Fumbling in her pocket for the cloth sacks she'd been carrying, Ina wrapped one of them around Mabel's wound, and then another. The blood kept seeping around her fingers, however tightly she held the makeshift bandage in place. Maybe it had slowed, just a little…
"This won't be enough."
The voice in Ina's mind was her own this time, but it held the same certainty as the earlier fragment of memory. Of course, a bandage wouldn't be enough. Even if the bleeding stopped soon, Mabel was chilled through and half drowned, and her unnaturally pale skin showed that she already had lost a dangerous amount of blood. What she needed was a skilled healer, along with shelter, dry clothing, and warm blankets.
None of which Ina could provide right now. Although Rowan had tried to teach her the ways of healing, she hadn't made much progress. Healing magic felt beyond her reach—unlike fire magic, which Ina always pictured as dancing joyfully, eager to play. If she could call upon healing magic in the same way, it would leap from her fingertips and dance along the child's injured leg, sparkling with heat and life.
The bandage took on a sudden warmth under Ina's hands, though she hadn't consciously invoked magic. Dissolving into a glowing cloud, it first had the deep red hue of blood, shading almost at once into orange and yellow like a leaping fire. Ina felt the heat going into Mabel's wound, bringing the torn flesh together and mending the damage. It faded into a pinkish mark like a healing scar, and then the glow moved up Mabel's body to settle in her chest for a moment before fading away entirely.
Moving her head just a little, the child breathed more deeply and normally, as if asleep. She hadn't regained consciousness, but her cheeks now held a trace of color. Now, she needed to be gotten out of the rain, without delay. Ina tried to control the storm and make it stop raining, but she couldn't muster up more than a tiny flicker of magic after so much of her energy had been drawn into the healing work.
Ina still had the normal strength of her body, though, and the cabin where Mabel's family lived was just across the lake. Carrying the child that distance would be manageable. What to do about her mother, Nellie, who hated witches "more than anything," might prove more difficult.
One problem at a time, Ina told herself, picking Mabel up again to carry her home.