I could hear the clatter of freezing rain when I woke up this morning. My daughter's puppy (a.k.a. Diva Dog) wasn't at all happy about being put outside to do her business, but stood next to the sliding glass door looking at us with big sad eyes as if to say, "You really expect me to go out in this?" The sky was so dark that when I sat down at my desk, I turned on the flameless candle that I keep to brighten my workspace on such mornings. I bought it to remind myself that I always have plenty of time (as discussed in this post) because time is a constant and there is only now.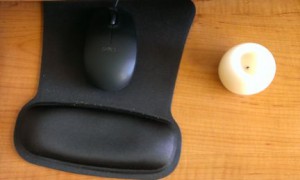 The rain didn't last long, and the sun came out for a while, looking brighter and higher than in the past months—as if sending a message that winter's end is not far away. This year I haven't felt stuck indoors and gloomy because of the cold weather, although not many days have been above the average January temperatures. I believe that's the result of making efforts to cultivate a more positive outlook and to appreciate the moment. Even on a dark morning with freezing rain, there is always something to appreciate, starting with the simple fact of being indoors with cozy warm central heating!
Nurturing Thursday was started by Becca Givens and seeks to "give this planet a much needed shot of fun, support and positive energy." Visit her site to find more Nurturing Thursday posts and a list of frequent contributors.