I recently decided to see an orthodontist about my lower front teeth, which used to be fairly straight, but have gotten a bit crooked over the years. Although they are not that bad, I feel as if I ought to get them taken care of, anyway—if only to persuade my anxious younger selves that I do, in fact, make a regular practice of taking good care of myself.
More generally, this year I've been feeling, intuitively, that I need tangible reminders that most things in life are fixable. When old worries pop up, as they do from time to time, I tell myself that there is no need for concern; but I haven't always been able to make myself feel the truth of it. So, when I came across this useful bit of advice, it seemed like a good fit for a Nurturing Thursday post.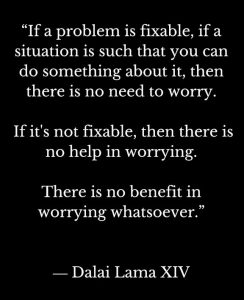 Nurturing Thursday was started by Becca Givens and seeks to "give this planet a much needed shot of fun, support and positive energy." Visit her site to find more Nurturing Thursday posts and a list of frequent contributors.