My husband always does the mowing, while I am responsible for anything that grows in the yard and is not grass. Planting annual flowers in the spring is fun, but weeding—not so much. It didn't really bother me at our previous house, which had well-established perennial flowerbeds and very few weeds. When we moved to this house, though, the neighborhood still had several vacant lots, and plenty of thistle seeds and other annoying weeds blew into the yard.
Digging those thistles out of the flowers often left me feeling achy the next day, unlike when I did the easier gardening at the other house. I started to wonder if I was getting sore because I was older. After all, I was turning 40, which had seemed quite far in the future when we were 30 and moved into the previous house. As time went by and I got busier with such things as the kids' sporting events, I rushed through the weeding, with the mindset that it was a miserable chore and probably would always give me aches and pains.
This year, however, I decided to test the hypothesis that whatever aches I got were caused mainly by too much rushing around, rather than anything to do with my age. I did some weeding on Saturday while my husband mowed the lawn. Instead of rushing through it, I slowed down, taking a little time to walk around and stretch every few minutes. I also alternated weeding with a little pruning, so that I wasn't in the same position the whole time.
A more leisurely pace didn't actually take much longer; my husband was putting away the lawnmower at about the same time I finished the weeding. I felt fine afterward and spent a few minutes browsing through and uploading Creative Commons photos to the library for my art display. I particularly liked the photo shown below, entitled "Old Loggers Path." I'm sure that must mean an old path used by loggers, but it gave me a mental image of a group of brawny guys with gray beards walking along carrying axes.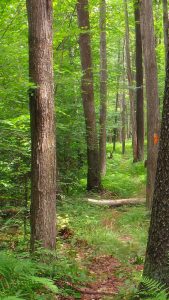 (Photo credit: Nicholas A. Tonelli)
When I woke up on Sunday morning I wasn't at all sore. I had to conclude that I would have avoided years of aches from weeding if I'd taken the time to consider possible causes and solutions. It seems simple enough in hindsight, but our culture doesn't encourage a mindful approach to health. Instead, the prevailing assumption is that the body naturally falls apart as we get older and there's not much to be done about it.
While it's certainly true that the body, like a machine, sustains some amount of wear and tear as time passes, I suspect that much of what gets attributed to age is not really inevitable. Sometimes, all that's needed is to make a few improvements in maintenance.