Yesterday, while I was sitting around the house enjoying a lazy Saturday morning, I started to wonder what I could write about for my Good Things post this week. I looked around, but didn't immediately spot anything new and fresh. Surely there had to be something. After all, the whole point of writing this series was to appreciate how often good stuff shows up.
And then I realized that I was wearing it! Not long ago, my husband had bought me a pretty new sleeveless dress for the warm weather. It's very comfortable, and that's what I put on when I got dressed on Saturday.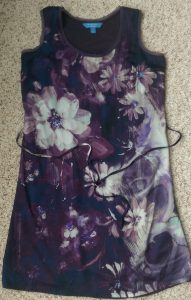 This just goes to show—there's always something to be happy about because life is full of abundance, and it's likely to be right on top of us even when we don't notice it!
* Good Things is a weekly series featuring the many unexpected joyful things that show up when clutter and stagnation have been cleared away. It's meant as a reminder that life is always full of happy little surprises, when there's enough space for them!