When I went on vacation with my husband the last week of February, we brought along a rowing machine—a Concept2 RowErg, which has the advantage of being easy to take apart and move. It fit reasonably well in the back of my husband's SUV with one of the back seats folded down and our daughter in the other seat, with her little dog on her lap. Arranging the suitcases around the RowErg was manageable, and the boats and bicycles went on a trailer.
Our plan was to row our double scull on the Florida Intracoastal Waterway for a week, so as to get back in practice after being off the water during the cold northern winter, and then race in a regatta on Sunday, February 27th in Sarasota. The regatta was smaller than usual because a circus had taken up much of the space in the county park where it was held, but we still had good competition. Bringing the erg to Florida allowed us to keep up with the winter fitness schedule our online coach had given us.
We set up the erg on a screened back porch of the house where we stayed. The view of the bay was gorgeous. Before rowing on the water in the early afternoon, we did our workouts on the erg in the morning, while the temperature was still reasonably cool.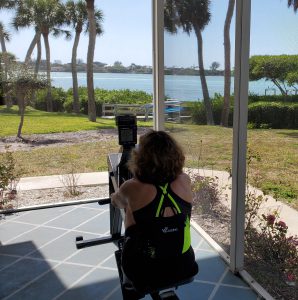 I still felt like I was wilting in the Florida humidity, though. After being indoors all winter, I wasn't at all used to it. A demanding workout on Wednesday morning, which focused on more strength at a slower rate, left me totally dripping with sweat and grumbling to myself about how I could've been so crazy as to be a fitness freak while on vacation.
The afternoon rows on the water were easier. We just paddled around with the dolphins and enjoyed the sunshine and the lovely scenery. Then we rode our bicycles in the late afternoon, on a path that ran beside the Gulf Coast for part of the way. It felt like a great, relaxing vacation—but for self-inflicted erg misery.
When race day finally came, though, I gained more appreciation for the daily workout schedule. Sprinting for the 1K distance that is standard for Masters races didn't seem nearly as long, or as hard, as in past years. I was able to keep the pace more even, and each stroke felt more powerful. When I looked to see how far I had gone on the course, thinking that I was about halfway, I was surprised to see that my boat was already two-thirds of the way to the finish line. In the single, I was far ahead of my competitor in the next lane; and in the double, we nosed in front of a team that always used to beat us handily at regattas.
Now I feel as if I am recalibrating—that is to say, tossing out old assumptions about my limits and getting used to having a healthier and more capable body. My husband just signed us up to row our double next month in an open 2K sprint with a younger field of competitors, which we haven't done before. We may not win, or even place, but it will be a good experience no matter what happens; and I'm not going to make any limiting assumptions before we even try.
After we got back home, I had a weird dream in which I lived in a messy apartment. A circus started setting up on the grounds of the apartment complex, like what happened with the regatta at the park. I left the apartment and came back to find that the building where it had been, just a few hours earlier, was no longer there. I saw a construction worker walking by and asked him what had happened. He told me that the apartment building had been temporarily disassembled to make space for the circus and would be put back together afterward.
There's plenty of fodder for dream interpretation in that one!