Over the weekend, my husband and I drove up to Toledo to row in the Frogtown regatta, named for the city's location on land that historically was a frog-filled swamp. We didn't see much wildlife when we put our boat in the river, probably because the windy and choppy conditions on the Maumee River were so bad that even the frogs ran for cover. Most of the small boat races were cancelled for safety reasons; and in those that weren't called off, some of the entrants took one look at the water and decided to just go back home.
We decided to go ahead and be adventurous, so we struggled along with only two other mixed double crews that braved the course. They were much more experienced and finished well ahead of us; but we got bronze medals anyway, which we felt like we deserved just for not being chicken. (Or perhaps frog, which they say tastes like chicken, but my bravery does NOT extend to eating it, so I wouldn't know.)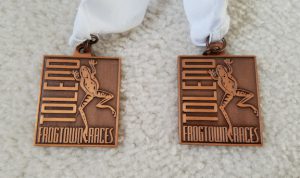 Though I'm not likely to make a habit of doing daredevil stuff and would rather have rowed on nice calm water instead, sometimes having an unplanned adventure turns out to be fun anyway. After all, life would get pretty boring if everything went exactly as planned. Unexpected events every now and again make things a lot more interesting!