Last summer I bought a small garden fountain to put on my front porch, which faces north-northwest and is always in the shade. The porch had seemed so dark and still with nothing but the doormat to brighten it up! The fountain definitely adds cheerful energy; and for those interested in feng shui, that spot is the house's north compass point where a fountain traditionally would be placed. All good!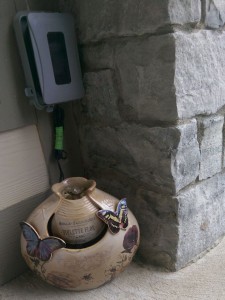 The garden where I planted the alyssum shown in last Thursday's entry is on the other side of the stone pillar shown in this photo. I also have snapdragons planted there, along with astilbe in a shady corner, and two varieties of hostas. It always lifts my mood to look out the window and see the flowers all summer long! Of course, in the winter there's nothing but bare ground, and the fountain has to be brought indoors and put away until spring; but for now, there's plenty of time left to enjoy both the fountain and the garden!
Nurturing Thursday was started by Becca Givens and seeks to "give this planet a much needed shot of fun, support and positive energy." Visit her site to find more Nurturing Thursday posts and a list of frequent contributors.