When I write blog posts about my past or future selves, I generally don't plot out a detailed structure first. Rather, I visualize myself in an imaginary setting, and then I look around to see what turns up there. It's often a random, stream-of-consciousness narrative.
That was especially true when writing this post on a rainy Saturday. I pictured myself walking outdoors on a similarly dark and wet day, wearing jeans and a light jacket with a hood. An asphalt path, with puddles here and there, meandered through a public park. The rain had stopped for the moment (as it had in real life), and the path had started to dry.
On my right, I saw a wide expanse of neatly mowed grass and well-tended trees and shrubs. A stream ran along the left side of the path and soon broadened into a lagoon, with dune grass and a sandy beach. I could hear the ocean not far away.
Someone was fishing in the area where the stream met the lagoon. She wore a baseball-style cap with brown hair tumbling over the shoulders of an olive-green T-shirt, along with khaki shorts. When she turned her head toward me, I recognized her as Kass, my 76-year-old future self.
She hadn't shown much concern for polite greetings in our previous encounter, so I didn't feel at all guilty when I grimaced and said, "Fishing, ew. Don't try to convince me I'm going to turn into someone who loves fishing when I get older."
Kass didn't take offense. She just laughed and said, "Depends on what you're fishing for. Right now, I'm casting a net into the collective unconscious and seeing what kinds of interesting cultural symbols turn up."
She reeled in her net, which contained just one lonely domino. Reaching into the net, she picked up the domino and tossed it into the sand at her feet.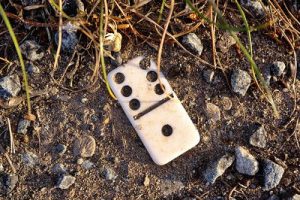 (Creative Commons image via flickr)
"Okay," she challenged me, "what would you say this means?"
Not much came to mind right away. "Well, I had Domino's pizza for dinner on Wednesday."
"Uh-huh." Kass didn't quite yawn, but she looked bored.
"Playing dominoes as a child." I tried again. "Or with dominoes. Making them into pretend walls or into paths leading to a castle, that kind of stuff."
Kass gave me an encouraging smile. "That was always fun."
I considered it for another minute or so, glancing up into a sky that had started to brighten. A tiny patch of blue could be seen just across the lagoon.
"The domino effect," I said finally. "Tip over the first one, and they all start falling. Right about now, it certainly feels that way, as if the world is on the brink of huge changes. But will the changes be for the better, or not?"
Kass chuckled again, in a good-natured way. "Oh, I'm sure you must already know the answer to that, don't you? It all depends…"
Lifting up her fishing rod, she walked around from one spot to another on the sand, making a big production of finding just the right spot to cast her line back into the water. By the time she spoke again, I knew exactly what she was going to say, and we finished the sentence in unison.
"…on where you stand."