Just before waking up this morning, I was dreaming about time travel. In the dream it felt like I could step out of bed and then I'd be in another time and place. Maybe I'd find myself in a place where I lived as a teenager. I could end up anywhere!
When I finally woke up, I wondered for a moment if I had somehow chosen this time and place from many possibilities. It didn't seem farfetched that I might be able to wander freely from one timeline to another, like a child discovering the magical entrance to fairyland in a storybook garden.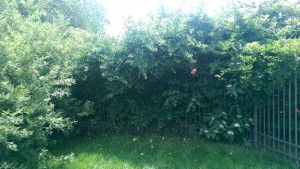 And then I realized that it's a fact—we really do choose the time and place where each day begins. We can start the morning with happy memories of good times. Or, we can "wake up on the wrong side of the bed," full of grouchy thoughts and old stale grudges!
We revisit the past whenever we look at memories in light of new experiences, sorting them into more useful patterns and updating our mental maps. Sometimes that can be hard to do, but it's better than getting stuck in outdated thought loops like a computer with obsolete software!