Before we had supermarkets with computerized inventories and PLU produce labels, cherries were put in a bin at the grocery store, instead of being pre-bagged as they are today. Shoppers had to pick through the cherries in the bin to find the good ones. They were then weighed on a balance scale, and the cashier would determine the price by looking at a paper list posted next to the mechanical cash register.
Because I loved cherries and other fruit when I was a child, my mom gave me the task of picking out the best cherries (or other fruit in season) when she did the grocery shopping. That way, not only did she finish the shopping more quickly, but she also kept me occupied so that I wouldn't pester her to buy other things that were not on the list. Very wise!
Earlier this week, I bought my first bag of cherries this summer and thought about how much easier and quicker it is now: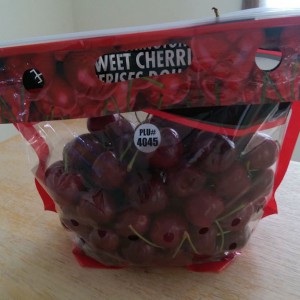 Although today's supermarkets are more efficient than the grocery stores of the past and have a much larger selection, which often includes fruit out of season shipped from other parts of the world, I still enjoy the seasonal changes. Fruit just doesn't taste the same when it is picked before it ripens and sits on a boat for weeks. So my "cherry picking" for the modern world consists of carefully picking foods that give me the most enjoyment, such as cherries fresh from the orchard in July.
Nurturing Thursday was started by Becca Givens and seeks to "give this planet a much needed shot of fun, support and positive energy." Visit her site to find more Nurturing Thursday posts and a list of frequent contributors.