Thanks to Carolyn at Nuggets of Gold for contributing a story prompt: hurricane, chameleon, and jellybeans.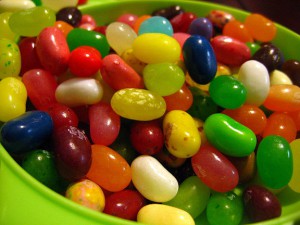 (Creative Commons image via flickr)
Ronda struggled to latch the storm shutters as the gusty winds came close to ripping them from her hands. Shut inside the cabin, her cocker spaniel Trevor barked once, a nervous yelp. "Just one more window to go, and then we're done," Ronda said loudly, to reassure herself as much as the dog. Fat drops of rain, just beginning to fall, spattered the hood of her nylon jacket. Sunset was still an hour away; but with a hurricane blowing in from the Gulf Coast, already it had gotten so dark that it looked like night.
Spending the winter in Florida had been her husband's idea. Nolan was a traveling salesman, and Ronda had a small online business, so they didn't have to stay in their little Indiana hometown but were free to live anywhere they wanted. Getting away from the snow and enjoying the sunny days and lovely wildlife of Florida had seemed like a great idea. But as it turned out, there hadn't been much sun—three strong storms already, and it was only December.
Getting the last shutter fastened, Ronda hurried inside just ahead of a colossal downpour, hoping she hadn't let any of that lovely Florida wildlife into the cabin with her. She didn't mind the birds so much because they really were pretty, even though they often kept her awake late at night with their nonstop chirping and squawking. But all those scaly, beady-eyed reptiles, ew! Lizards and snakes everywhere, and the occasional alligator by the roadside—they gave her the creeps.
"We'll be okay if the power goes out," she said to Trevor, who wagged his tail as if he could understand her. "There's plenty of fuel in the generator, food in the pantry, and a flashlight on the kitchen table."
She took a quick glance in that direction while hanging up her jacket. Yup, there was the flashlight, next to a green plastic bowl full of jellybeans. All of a sudden, Trevor launched himself toward the table, barking furiously! Jellybeans flew everywhere, and the bowl hit the floor. Fortunately Ronda already had eaten most of her favorite flavors, and many of the spilled jellybeans were lime green, which she disliked.
Just then, the power flickered and went out. It came back on a second later, before Ronda reached the table. And that was a very good thing, because when the lights came on again they revealed a lime-green chameleon perched on the flashlight handle, right where Ronda had been about to reach—staring at her with its big bulging eyes.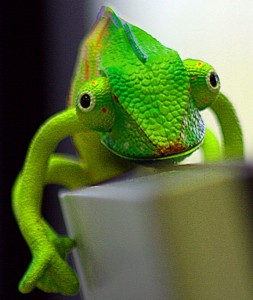 (Creative Commons image via flickr)
Trevor growled, Ronda shrieked, and the terrified chameleon leaped off the table and ran for its life! Opening the front door to shoo the chameleon out, Ronda grabbed Trevor by his collar so he wouldn't go tearing after it. Rain splattered all over the hardwood floor before she could get the door closed, which was okay because the floor needed mopping anyway.
"You can't have candy, it's not good for doggies. But you were a brave guard dog, so you can get a treat!" Ronda gave Trevor one of his favorite Bacon Cheddar Biscuits to console him for not being able to eat the spilled jellybeans as she started sweeping them up in a dustpan.
She fervently hoped the chameleon hadn't been hiding at the bottom of the bowl when she ate jellybeans earlier! And what was it doing here anyway—chameleons weren't native to Florida, were they? Oh, well, people said all kinds of escaped exotic pets were breeding in the Florida swamps, and Ronda was definitely ready to believe it. Some harmless Indiana snow would be just the thing right about now, she thought, as a huge thunderclap shook the cabin.
"There's no place like home!" she declared. Trevor wagged his tail agreeably.