As another year approaches, many of us choose a word or symbol to represent an intention for the new year. While it may still be a bit early for that as we're only halfway through October, I happened to notice a figurine while browsing on Amazon last week that felt just right for how I'd like next year to go! So I went ahead and bought it, found a place for it in a sunny room where I'll see it regularly, and took this photo.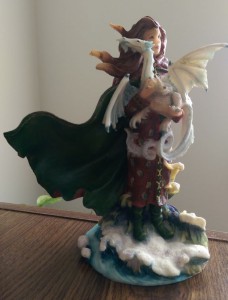 The title is Release Dreams Fairy Holding Dragon (I've made that into a link to the Amazon page for anyone who might be interested).  It gives me a lovely visual reminder of what I want to do in the upcoming year—release my dreams to fly free and grow into something beautiful! And I do believe that seeing it every day will keep my thoughts focused on bringing more positive, creative energy into my life.
Nurturing Thursday was started by Becca Givens and seeks to "give this planet a much needed shot of fun, support and positive energy." Visit her site to find more Nurturing Thursday posts and a list of frequent contributors.