I mentioned in a post on Saturday that one of my Christmas decorations is a clock that chimes holiday songs on the hour. The clock has a bright, cheerful winter scene on the face. Last year I got it in a Yankee Swap (also called White Elephant) regifting party, where my husband and I got together with friends after Christmas and everybody brought their unwanted presents.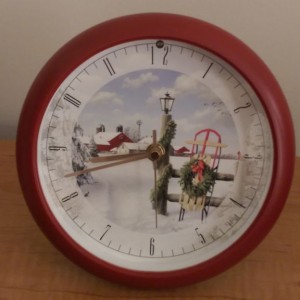 I suppose the person who didn't want the holiday clock thought that the chiming songs would be annoying. My daughter complained that when she was watching TV, the clock was too much of an interruption. I like it, though, because it breaks up the holiday rush with a cheerful pause every hour, reminding me to take a moment and appreciate my blessings. We can all benefit from such reminders. Have a very merry Christmas, everyone!
Nurturing Thursday was started by Becca Givens and seeks to "give this planet a much needed shot of fun, support and positive energy." Visit her site to find more Nurturing Thursday posts and a list of frequent contributors.