Last weekend's trip to Boston was amazing! The Head of the Charles regatta, which has a 60-year history and many thousands of athletes, is MUCH bigger and more competitive than anywhere else I have rowed. To be honest, I felt kind of apprehensive when my husband organized the trip, but everything went well. People lined the bridges cheering for the athletes, and some of our online friends gave us a cowbell and kazoo decorated with a rowing motif so that we could make some noise too.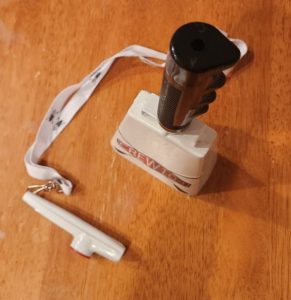 My husband's single race was on Friday morning, when the middle-aged and older rowers compete. He got into a collision with another boat under a bridge and lost some time because of it, so he didn't do as well as he would have liked; but I have to give him credit for being brave enough to go out there in a single, which I'll freely admit I was not.
Although it rained much of the day on Saturday, we went out to cheer for our friends and our coaches anyway. I had to change my shoes after they got wet, but that was okay because my husband ordered some nice waterproof boots for me after we got home.
In our quad race on Sunday, my husband was in bow and steered well through the narrow Boston bridges. It was very exciting to be on the course with big crowds cheering for us! Even though we weren't anywhere near the frontrunners, it was a lot of fun anyway. My husband is already talking about going back next year to row our double.