My daughter rented a two-bedroom apartment in Cleveland, although she does not have a roommate. The main reason seems to be that she wants to use the second bedroom as a giant walk-in closet to accommodate her extravagant shopping habits, which I illustrated on this blog last summer with a photo of the closet in my entryway, totally full of her coats and shoes.
Although her original plan was to move out last year, it did not happen then, which probably was for the best because staying here another year gave her time to save up some money and get a clearer idea of what she wanted to do. But now she is gone and the closet is empty, except for a few hangers; all its overflowing contents got packed into large cardboard boxes for a one-way trip.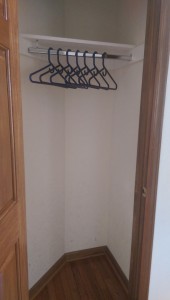 Sometime in the near future I'm going to clean the closet floor and polish the woodwork. Then I'll paint the walls a nice bright color to get rid of the scuff marks from being piled high with all those pairs of shoes.
One thing I've learned from cleaning up clutter around the house is the value of empty space. People tend to think about their stuff mainly in terms of buying more of it, and about empty areas in terms of what else can be put there; but I would say that a comfortable house needs to have enough empty space so that everyone can move around easily and find their stuff when they want it.