To freshen up our bedroom for spring, my husband and I bought a new comforter and sheet set at the end of March. We didn't replace the pillows, though, because we had been sleeping just fine on the old ones and they were hidden away inside their cases, where we wouldn't see them. So we thought, why spend money replacing them when it wasn't necessary?
But the problem with that attitude, as I later realized, was that although we didn't see them every day, they weren't really hidden either. I still had to look at four dingy, yellowed, ancient, squashed pillows every time I washed the bedding. Instead of fully appreciating the pretty new comforter, sheets, and pillow shams, laundry day meant (yuck!) looking at this: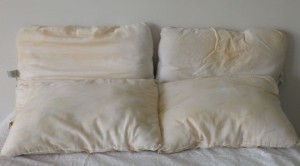 Even though the old pillows were out of sight most of the time, they weren't out of mind. Finally it dawned on me that the cost-avoidance of not replacing the pillows wasn't nearly worth the aggravation they were causing me. So I bought four new pillows. Now the bed is all nice and fresh, with cozy fluffy white pillows in both the cases and the shams—a big improvement for a small cost. So much more comfy!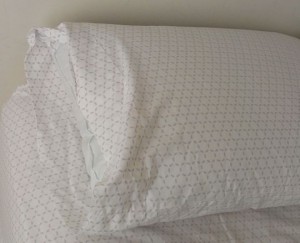 In the future I'll keep in mind that just because something is not out in plain view, that doesn't mean it should be kept around forever. Even if it's still functional and nobody else can see how worn out and ugly it has gotten, it detracts from our own enjoyment because we know it's there. Although money doesn't buy happiness, being overly frugal can cause us to feel that we've been deprived of life's simple comforts. And those comforts—including the ordinary things we see in the house—have more of an effect on our happiness than we may realize.
Nurturing Thursday was started by Becca Givens and seeks to "give this planet a much needed shot of fun, support and positive energy." Visit her site to find more Nurturing Thursday posts and a list of frequent contributors.