My poor long-suffering backyard willows, which I've had to cut back significantly in the past few years because of damage caused by unusually cold winters and hot, dry summers, took more abuse this morning when an ice storm bent their branches all the way to the ground.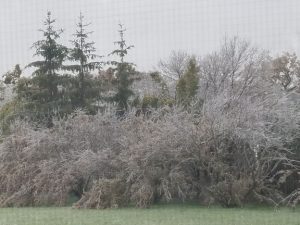 The temperature got above freezing this afternoon, though, and the ice is melting. I expect that by tomorrow, the branches will have shed their coating of ice and will have bounced back, not much worse for the wear. We could learn a few things about resilience from their example!
Nurturing Thursday was started by Becca Givens and seeks to "give this planet a much needed shot of fun, support and positive energy." Visit her site to find more Nurturing Thursday posts and a list of frequent contributors.