I didn't feel inclined to do much writing last week because, among other things, I wasn't getting anywhere trying to imagine the future. What with the entire world having been totally upended this year, I felt as if I'd lost whatever intuitive sense of direction I might once have had. Because telling stories to make sense of a confusing modern world is the central theme of this blog, it seemed rather pointless to write about being lost in a sea of befuddlement. (Well, except that putting the word "befuddlement" into a sentence just now was kind of fun.)
Then I started reading an apocalyptic business book that projected automation would destroy most of the world's jobs in the near future. Before this year, I had dismissed that scenario as highly unlikely because it looked like we had plenty of jobs, with more coming open because of retirements and lower birthrates. But now, with a pandemic that could go on for a long time, what business owner wouldn't want to replace sickly, unpredictable, and expensive humans with robots and intelligent software?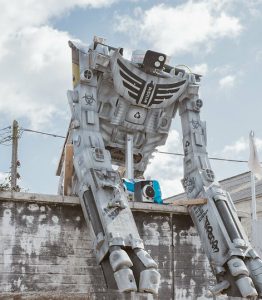 (Creative Commons image via flickr)
That line of thinking put me into quite a funk, and I considered talking it over with my 119-year-old future self, Fannie the Fantastically Adventurous. She might be able to offer some helpful insights and encouragement. But no, that wouldn't do; I already wrote a post last year in which I asked Fannie for career advice. Something more was needed.
"Yoo hoo!" A waving hand appeared in my imaginary inner landscape, connected to an arm that was nicely toned, if a bit wrinkled. The rest of the body soon came into view, dressed in lime-green workout shorts with a matching tank top and sports bra. This visitor had just been outside on a humid afternoon, judging from the damp, sweaty curls tumbling in all directions over her shoulders. A thin line of gray roots was barely visible under the brown curls.
"I'm Kass," she informed me, "your 76-year-old future self."
"Is that short for Cassandra?" I asked, wondering where a future me would have gotten that name. Usually when new characters introduced themselves, I knew their origins; but this time I had no clue whatsoever.
"No, it's Kass with a K. And it's short for kicking yours." Kass smirked in a way that made her look more like a juvenile delinquent than a respectable lady of her claimed 76 years.
I briefly considered tossing her back into whatever murky pool of my subconscious mind had spawned her. Curiosity got the better of me, though; and I decided to take her bait, even if doing so might have been against my better judgment.
"If you're from my future, aren't you supposed to be kind and forgiving toward me?" I demanded. "That's the whole point of imaginary conversations with younger selves, right? You help them to put things in perspective and to understand that their mistakes weren't really as bad as they might have thought."
Kass waved a hand in a dismissive gesture and made a "pfft" sound.
"Yeah, right—like you were kind and forgiving when you told our past self Queenie to take a hike?"
"Well, okay, that wasn't very nice," I had to admit. "But I did it without thinking, I apologized to her, and then I went back later and told her she was brave for standing up to social pressure."
"Aren't you the noble one." Kass sneered, putting her hands on her hips and glaring at me. "I'm not feeling nearly that altruistic right now, and that's mainly because I am still recovering from all your ridiculous fears and insecurities. Fannie has had a much longer time to mellow into a wise old woman; I'm not nearly there yet. Just this afternoon, I was out for what should have been a nice relaxing jog in the park, until your annoying self-pitying thought loops about life's unfairness showed up and ruined it."
"Queenie had a few things to say when I felt like that," I pointed out. "She told me that it wasn't fair to blame a bad day on a younger self, who was likely finding it hard enough to stay positive without the added stress of being responsible for how her future selves might feel. And I would add that is especially true in 2020, when everyone in the world is stressed out."
"Aw, boo-hoo-hoo, so unfair, poor tragic long-suffering little you. Cue the violins." Kass made exaggerated fiddling motions in the air. "We both know that you're super lucky, compared to what happened to a lot of people. So get over yourself already."
She dropped her hands into a more relaxed position at her sides and took a deep breath before going on. "And in particular, you need to stop judging yourself as a stuck-in-a-rut failure for not having a clear sense of career direction—or any other kind of direction that you feel you're lacking. You live in a time when the world is changing so fast that almost anything might happen. Recognizing that fact doesn't make you less insightful or motivated than anyone else."
Turning that over in my mind, I couldn't dispute her point. Clarity wasn't easy to come by these days; and framing its lack as some kind of personal failure did not, in truth, make any sense.
"As for work," Kass concluded, "just think what might have happened if you'd felt inspired to change careers or start a new business in 2019. Many people did just that—and then the pandemic hit, and they lost everything. So, your uncertainty turned out to be a blessing, even if it didn't seem like one. Be grateful for it, give yourself permission to chill out and relax for now—and be open to new opportunities finding you later, when the time is right."
She gave me a smile that actually looked like it might be a real, good-natured smile this time. "And then, maybe, I can finish my next jog without interruption."