The little garden fountain on my front porch, which I mentioned in a May post, has had a lot of algae this summer. I didn't want to risk harming animals that might drink out of the fountain by putting chemicals in the water; so I've just been dumping out the water and the pebbles from time to time, and then putting in clean water and more pebbles.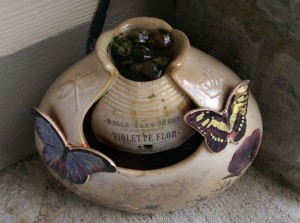 I need to quit being lazy about it, though, and give the fountain a good thorough scrubbing to get all that algae out! The water hasn't been flowing as freely as it should, and every time I look at it, I'm getting subconscious impressions of blockage and gunk instead of the healthy flow of energy that I had in mind when I bought it. Even the best of intentions for self-nurturing aren't necessarily going to work out without some work being put in!
Nurturing Thursday was started by Becca Givens and seeks to "give this planet a much needed shot of fun, support and positive energy." Visit her site to find more Nurturing Thursday posts and a list of frequent contributors.